Embla dance & theatre – dance productions for young audiences
We are a Swedish dance company with young audiences as our main focus. With humor, a playful attitude and a direct approach we aim to raise interest in modern dance and to encourage creativity.
Embla dance & theatre was formed in Gothenburg in 1989. We create and perform dance performances for both children and adults. Embla has been touring both Sweden as well as internationally and have visited the Nordic countries, the Baltic States and Italy.
The most significant characteristics regarding Embla's work for children is the direct approach towards the audience, utilizing humor and an overall playful attitude. The shows often act as an entry point towards a greater understanding and appreciation of modern dance. All of the performances also come with a dance workshop for and with the children.
Embla has also created atmospheric and suggestive performances for adults, using both site-specific performance spaces as well as regular venues. Over the last couple of years we have done somewhere around 180-220 shows each year.
For booking or more information, please contact our producer:
Elin Andersson, elin@embladans.se, +46705-61 62 64
Dance performances for children
Embla is known for  direct public contact, humor and high quality. Each show ends with a dance workshop.
Will to Grow
A dance performance full of colour & music
For children 3-6 years and family
In Will to Grow, we are taken along on the journey from seeds to a garden in full bloom!
We'll meet wondrous characters — batty birds and clever growers. We'll experience thunderstorms, compost burials, and a sparkling glow worm disco.
Through dance, live music, water, carbon dioxide, and our own playful imaginations we'll explore the cycles of life and the garden. Did you know that trees can talk with each other? And—when do plants actually grow?
Had it's premiere in april 2018. / Photo: Ola Kjelbye
Click here to see the whole performance
"It is an endearing performance about waiting, yearning and blossoming. There's even room for a good deal of humour. The interaction between music and movement allows the audience to feel, think and laugh (…) And suddenly something changes in the room. The tempo slows down and a long sequence in slow motion unfolds, apparently fascinating the children even more. The changes in tempo, the movements and the facial expressions of the actors truly captivate the audience, with messages often conveyed without any spoken words." Marie Eriksson, Business Developer, Mölndal, Pedagog Blog, Mölndal 04.03.2019
Dancing Round
A dance performance for children cared for in hospital.
For children 0-12 years and their family
Two dancing doctors play with the role of the doctor, arriving with their stethoscopes using dance, music and humour. They meet with a patient in their own room or with several patients in a larger area.
Dance Round is adapted according to the needs of patients and the space, and can be moved between hospital beds and IV stands or danced in the corridors within a ward.
In Dance Round the doctors perform a stethoscope dance to check the pulse on different parts of the body, they shake hands but get stuck and dance themselves free, they work so hard that they fall asleep and snore a Snorrphony. The performance finishes with a "movement check-up," a dance workshop adapted to the situation.
Performance time varies between 15 and 25 minutes depending on the space and the audience.
"It's even possible to dance in bed," say the dancers Fanny Kivimäki and Anna Wennerbeck. And yes, they were right! The first patient they visited seemed initially reserved, but soon lit up with laughter, moving in bed to the rhythms. The dance round finished with a performance for a family, with the patient surprising the dancers and the father shouting "NO!" when it was time to finish. (…) Small but meaningful moments to remember! Jenny Jernberg, Fundraising Foundation, Queen Silvia's Children and Young People's Hospital
Click here to see an excerpt of the performance
Photo: Simon Eliasson
Book Case
A dance performance performed in libraries
For children 5-8 years and family
Amongst the books, shelves, cosy armchairs and reading lamps, two dancing librarians are on a voyage of discovery. The dancers' imaginative antics invite pupils to experience an interactive dance performance in a public library, school library or book bus. They show us the most spectacular books – hairy, stripy, chequered, snoring, inquisitive and laughing – opening up an array of different worlds.
The audience experiences the art of reading through dance, sensory books, bodily letters and the odd word here and there. Sometimes, the pupils even join in with the dancing.
"The next book suddenly started to roar with laughter and soon the sound of laughing pupils could be heard echoing around the bookshelves. Then Book Stuff continued with even more antics and dancing around the library." Annika Thunell, Ystads Allehanda, 07.11.2017
"An interactive performance for all the senses, where the children are involved and the whole library is turned into a performance area (…) it was Embla Dance and Theatre entertaining the gathered audience with its refreshing performance." Anneli Malm, Skaraborgs Allehanda, 14.09.2016
Click here to see an excerpt of the performance
Photo: Lina Ikse
Site Specific dance performances
Embla dance & theatre har a passion for pop-ups and site-specific performances. We like to surprise the audience in places where they don´t expect to see dance. We also like to create performances based on the location or space.
This is a short presentation of two of our site-specific performances: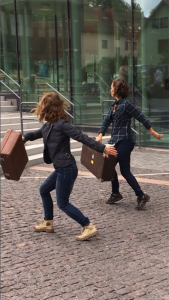 Dep. 15.47
In this dance piece the suitcase and what we carry with us is the central theme. The suitcase is concrete, yet a strong symbol of both physical and mental baggage.
Click here to see an example from an outdoor event
Click here to see an example from an indoor event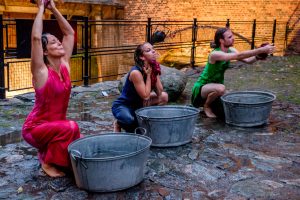 Water Poetry
It's about water, it's about womens labour and it's about the faces we put on when we meet other people. Bodies, washtubs and cloths in water, these are the tools used in this expressive performance of the unsaid – yet recognizable – of being human.
Photo: Anders Hagberg
Dance education & creative projects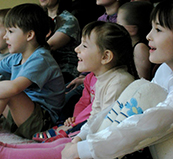 Watching dance
Get tools to talk to children and young people about their experience. A workshop that can be applied for all art performances.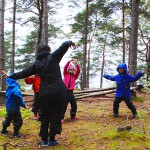 Integrate dance/movement in your preschool/school
Education for staff in preschools and schools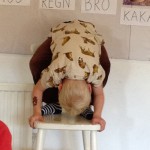 Creative dance in preschool/school
You as the organizer and EMBLA will together create a project that fits your school and your ideas.
This english page is under construction, but in the meantime 
please don't hesitate to contact us for more information, booking or questions:
info@embladans.se, +46 (0)705-61 62 64
Embla is supported by 
Swedish Arts Council and the City of Gothenburg.